Defeating Foot Pain During the Holidays
Did you know that 3 out of 4 people will suffer with foot pain and dysfunction? The American Podiatry Medical Association has estimated that 72% of Americans will have foot pain.
There is a solution however to that disabling foot pain; and it doesn't have to take a long time to experience relief.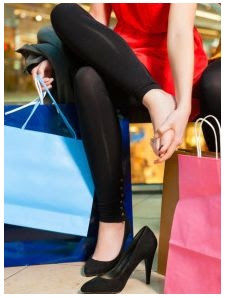 Addressing the root cause and correcting the underlying biomechanical problem that's responsible for your foot condition is extremely important for long-term relief and correction.
Most people don't think of their chiropractor first when it comes to their foot condition. However, don't let that to keep you from coming in to our clinic for a chiropractic evaluation for a foot problem.
We take great pride in providing a higher level of care for patients' feet than what you would typically expect.
There are 26 bones in each foot and these bones are aligned into four separate arches. These four arches are designed to absorb the shock from each step. However, when you have misalignments of one or more of those 26 foot bones, it causes great stress to the arches of the foot as well as the surrounding muscles, joints and nerves.
Foot bone misalignments will often lead to foot pain, stiffness or dysfunction is they are left untreated.
Here at this clinic, we adjust the tiny bones and joints in the feet, restoring function and optimal performance. Many of our patients have suffered for years with unbearable foot pain and dysfunction and we have been able to help them immensely.
The foot adjustment is a gentle process, and it's generally a pleasant experience to have your feet adjusted. Your feet will move and feel better when they are properly aligned.
Many of our foot patients have been referred by other satisfied patients. Thank you for recommending others to us for their foot health.
***Disclaimer: This content is solely for informational purposes and should not be substituted for medical or chiropractic advice. It is recommended that you seek professional advice by a licensed health care professional.
Scott Chiropractic and Wellness
5080 Virginia Pkwy Ste 550